Summary
This is a combination of a full sightseeing tour of Sri Lanka, including all the cultural and historic attractions with visits to the high altitude Horton Plains Cloud Forests and Uda Walawe National Park, the island's premier elephant reserve. The highlight is a visit to Yala National Park, which is one of the great national parks of Asia.

Upon arrival in Colombo, relax at your chosen hotel or villa and head off next day to the Cultural Triangle which contains all of Sri Lanka's main historic sights. There include the medieval capital city of Polonnaruwa, the Golden Cave Temples at Dambulla and the fantastic rock citadel of Sigiriya.

Kandy is a very picturesque town nestled in the hills with the Temple Of The Tooth, one of Buddhism's most important shrines.

The Hill Couintry lies at an altitude of 4000 ft - 6000 ft and was the hub of the British tea planting community of Ceylon, the island's former name. The Horton Plains National Park has unique Cloud Forests and expanses of grasslands or 'patanas' leading to amazing views at World's End.

Uda Walawe National Park has huge herds of wild elephants that gather around a vast lake. It is sometimes possible to spot 150-200 animals in one gathering. There is also a very interesting 'foster home' for abandoned baby elephants that are prepared for release back into the wild.

Yala National Park is one of the best locations in the world to spot leopards in the wild. The sheer beauty of its landscapes and great variety of wildlife makes it un-missable for any wildlife enthusiast.
This is a private tour with your own vehicle and driver-guide.
Tour Map
Tour Itinerary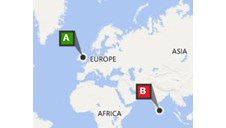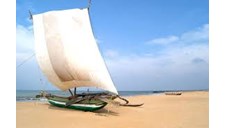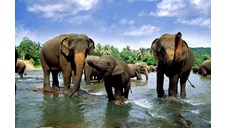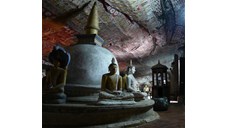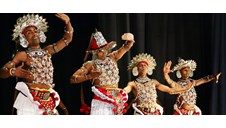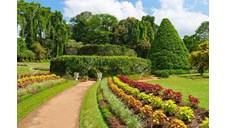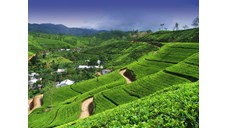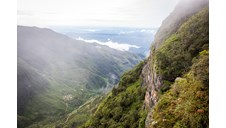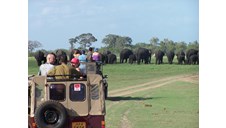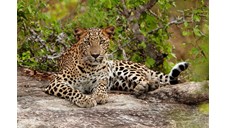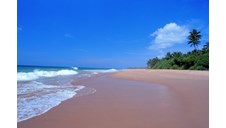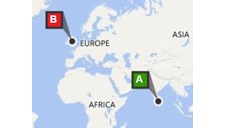 More Information:
First Class - Room and Breakfast (Breakfast)
Special Choice – Half Board (Breakfast + Dinner)
Based On 2 Persons Sharing Room
*Price Excludes Beach Stay
Why Is This Tour At The Top End Of My Budget?
Sri Lanka's Wildife Department charges very high entry fees for foreign nationals at all National Parks in Sri Lanka. Apart from this, we need to factor in Jeep Hire and Tracker Fees too.

What Is The Best Time To See Leopards At Yala?
Leopards are seen throughout the year, with slightly more sightings in the dry months of August and September. Afternoon Safaris are best for Leopards.

Is Yala Open Year Round?
The Wildlife Department has again introduced the closure of Yala National Park during September of each year in order to upgrade park facilities and to give the wild animals some respite from the large amount of vehicles entering the reserve. Bundala National Park can be substituted as an alternative during this period.

Can I Add Extra Safaris At Yala Or Uda Walawe?
Yes. If you have been unlucky with animal spottings or want to spend more safari time at Yala or Uda Walawe, extra Jeep Safaris are easily arranged on demand.

Is It Possible To Include Whale Watching Within This Tour?
Yes but you need to spend an extra night in and around Mirissa in the Deep South. You can either add this to your tour or arrange whale watching from your beach hotel if you stay within easy reach of Mirissa. You need to get to the Mirissa Harbour by 6 am. Whale Watching is only possible between November and April.

Is It Easy To Stay On The Deep South Beaches After This Tour?
Yes, this tour is ideal for a beach stay in and around Galle.
Terms and Conditions
INCLUDES
• Private tour of Sri Lanka in an air-conditioned vehicle with English speaking driver/guide.
• All entry fees for places of interest as described in itinerary including jeep hire at national parks.
• Train Tickets.
• Meal plan as stated.

EXCLUSIONS
• Flight and accommodation supplements may apply at peak periods.
• Beach stay at end of tour if required will be charged separately with options given.

OFFERS AND DISCOUNTS
• Children under 6 years of age sharing parents bed are given the land tour FREE OF CHARGE!!
• Special rates available for 2 adults and 1 child sharing triple room.
• Discounts available for families and larger groups.

TAILOR MADE ALTERATIONS
• You are welcome to suggest changes or alterations such as a more relaxed tour with fewer activities, additional nights at places that may interest you, and adventure activities like white-water rafting.
• Tell us about any special interests and we will incorporate them in to your tour schedule.
If you want to widen your choice of tour hotel options, go to our View All Hotels index and tell us the mix of hotel you wish to stay at? If you have chosen your own hotels, we will include these along with your quote request.

DISTANCES AND TRAVELLING TIMES
All distances are point to point and do not include stops for sightseeing en-route. Actual travelling times may vary according to traffic, local weather and other factors.

YOUR BEACH STAY
There are a large number of beach hotels featured on our website. You are welcome to browse the Beach Hotels index and ask for your own choice of beach hotel. Alternatively we will feature a standard set of 6 beach hotel options that we can personally recommend.

You are welcome to specify the actual number of beach nights you require.

TOUR FORMAT
Unless specified, we usually feature the clockwise version of the tour for Winter Season (October-May) enquiries, and an anti-clockwise version of the tour for Summer Season (June – September) enquiries as the occurance of fine weather, sea bathing, snorkelling and watersports depends very much on the coast that is 'in season' at the time of your travel.
Need Assistance?
We can prepare custom tours to fit your budget. Contact us to discuss your travel requirements, and we can advise you on how best we can assist you.